Viewers could someday fund their favorite television shows and guide creative choices as an Austin startup moves to a model of TV involving non-fungible tokens, or NFTs.
---
The startup, Virtual Arts, formed in 2019 and later released an app called DanceFight, where users can compete in dance battles. Now it's taking on a new project with Bunim/Burray Productions called Wonderfuel, and the joint venture will release a slate of shows with NFTs involved in the funding model and audience experience.
It'll work by having NFTs, collectibles which are commonly stored on the Ethereum blockchain, go through a process known as minting that'll allow it to be released alongside the shows. From there, fans will have access to rewards such as prizes and involvement in the show's "creative decisions"— think in reality TV if people helped decide what challenges would come next, who is going to be a judge or which guests will come on.
More announcements will come about the types of shows Wonderfuel will be releasing, but for now, Ryan Jordan, co-founder of Virtual Arts, said it'll be unscripted programming.
The NFTing of TV is an expected next step as the tokens rapidly expand to just about any industry including fashion, art and music. Dolly Parton got into the crypto game with the launch of her Web3 platform dubbed the "Dollyverse," which kicked off with attendees at her SXSW Austin concert Friday receiving free, limited-edition NFTs. Late last year, another country music star Parker McCollum made a similar move with the creation of his fan club NFT.
Jordan said that what's being done in music has been a huge inspiration to the team.
"Seeing artists sell an NFT of their album cover and getting fans to help fund it and have ownership in that album, and in some cases replacing the label that typically funds the album," Jordan said. "Where now the fans have upside in their favorite artists and then become ambassadors and evangelists for those artists."
Jordan got the inspiration for the idea after time with the Amala Foundation, which carries out programming for Austin-area youth. Jordan noticed participants came from all over the world, and that helped him to see how music and dance connect people.
"So we wanted to try and create something virtually that felt inspiring and safe and inclusive and diverse," Jordan said.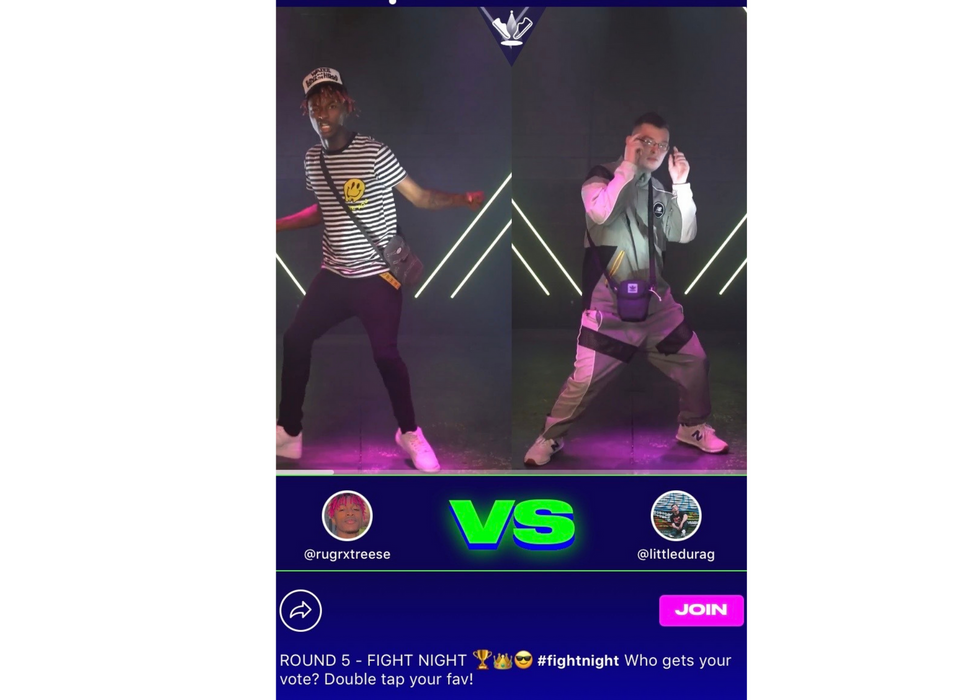 Screenshot of DanceFight app.
After starting a pool of equity that they gave to dancers in the community, they realized ownership was a trait they wanted to dig into. Jordan said it could potentially benefit the careers of the contestants in the shows.
"As we started to explore NFTs and web3 in general, we realized 'oh wow this is a real powerful way to give creators ownership in what they're creating,'" Jordan said.
The shows will try to be user-friendly. Jordan envisions someone in a small town tuning in even if they don't have much know-how on NFTs.
"They can get involved in a way that's easy and simple and frictionless and doesn't require a lot of knowledge around what NFTs are," Jordan said. "That's our goal is to make it very accessible. Spread the opportunity distribution around getting more people involved in web3."
.